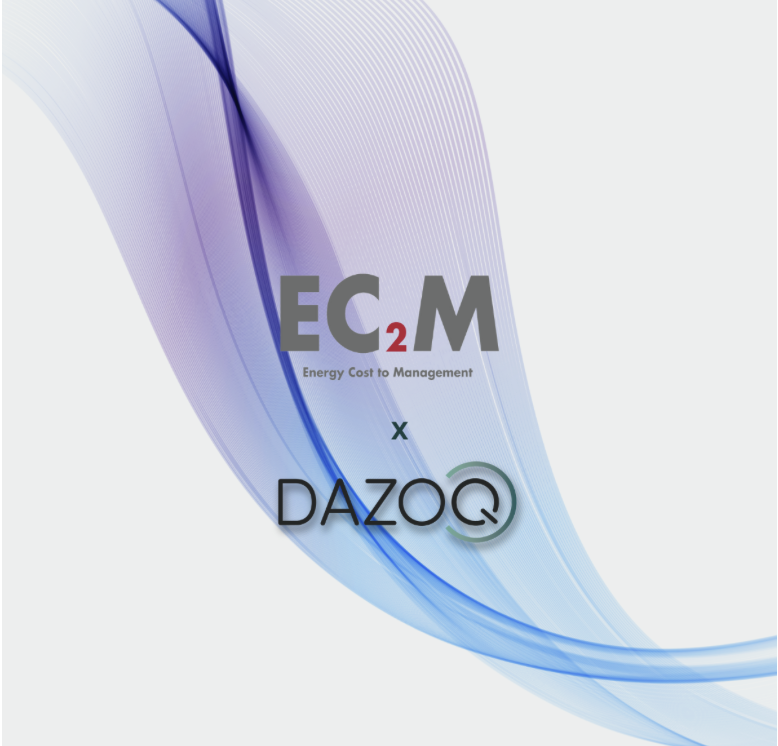 New collaboration partners - DAZOQ x EC2M
EC2M's mission is to lower their customers' energy costs through their energy analysis, with a focus on identifying unnecessary expenses and reclaiming them for the customers' benefit. A common characteristic among EC2M's clients is their high energy consumption, which has both economic and environmental implications.
Therefore, EC2M has sought a partnership aligned with their mission, one that aids EC2M's clients in reducing energy consumption, further decreasing energy costs. This addition would be truly unbeatable for clients: optimized energy costs and consumption! 
As part of EC2M's mission to reduce energy costs, a collaboration with DAZOQ has been initiated. DAZOQ assists the industrial sector in optimizing their energy usage through a user-friendly and intelligent energy management system. DAZOQ's wireless and connected energy meters can be installed in less than a minute. The software is entirely web-based, providing you with easy and direct access to your unique energy data.
"By combining solutions from EC2M and DAZOQ, we can further enhance the value for our customers while contributing to a greener transition. This unique combination of services hasn't been available in the market before, making it even more exciting. We look forward to our great collaboration and are confident that both our existing and potential customers will appreciate this efficient combination. The goal is to be a natural partner for companies aiming to reduce their energy costs, and we are now one step closer to that goal together with DAZOQ," says Andreas Halvarsson, CEO of EC2M.
Get the best of both worlds – benefit from EC2M's energy analysis for identification, analysis, and reimbursement of energy costs, reduce energy consumption with DAZOQ, and move towards a greener tomorrow while further lowering energy expenses!
Text by: Malva Kempe, Communications and Marketing Manager at EC2M.