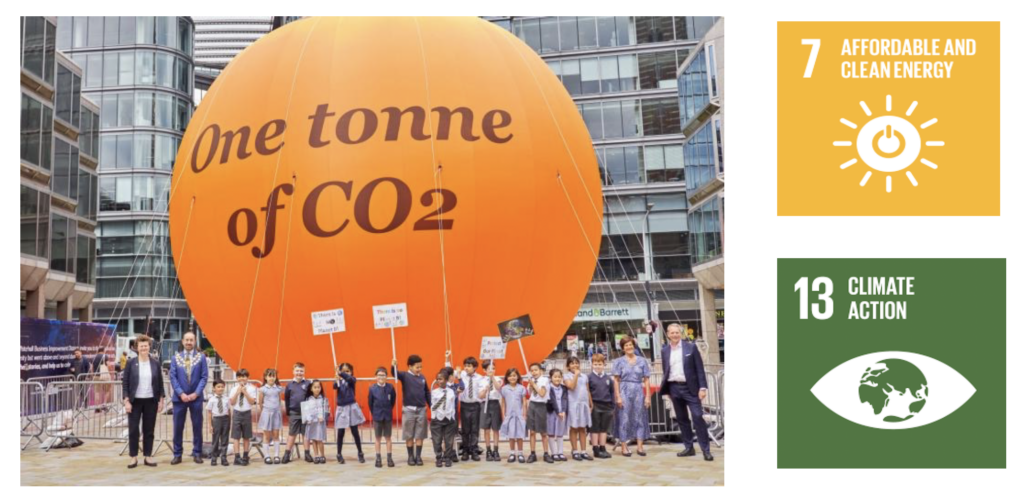 Sustainability Goals in Practice: How We Take the Step Towards a Sustainable Future
From a global perspective to the most local, sustainability has become one of the most important questions of our time. It's about creating a world that's better for ourselves, our communities, and future generations. An essential guide on this sustainability journey is the United Nations' Sustainable Development Goals (SDGs), which serve as a roadmap to a fairer and more sustainable future. 17 goals we wish we could embed in our company's history and actively work towards to contribute to a more sustainable world. However, sustainability is also built on honesty and transparency. We may not be able to incorporate all 17 goals into our operations, but we can do all we can to try and make a difference. Therefore, we have identified with two of the SDGs, and now, honestly, we want to share how we are working with them. Let us introduce 13.3 and 7.3, two key players in our sustainability journey.
13. The eye of climate changes
Goal 13 is about tackling one of the greatest challenges of our time, climate change. On the UN's website, under 13.3, it states: 'Enhance education, awareness, and human and institutional capacity on climate change mitigation, adaptation, impact reduction, and early warning.' Furthermore, the UN's website highlights actions crucial to reducing global warming: 'We need to strengthen people's and communities' resilience to climate change. To address climate change, we must transform how we use our resources, including energy, industrial production, and agriculture. It is still possible to limit future planetary warming.
As a company with a vision to make all industries more sustainable through innovation, we are committed to simplify energy efficiency for the manufacturing sector. We contribute by raising awareness of industrial energy consumption and visualizing it in a clear and educational manner through our platform. We also provide an operator's view so that everyone, including those working in production, can understand the behavior of energy and the impact of various decisions, such as turning off a machine instead of leaving it in standby when not in use. By increasing awareness of sustainable energy practices, we can contribute to a greener tomorrow and reduce our carbon emissions.
7. Affordable and clean energy
Goal 7 is about ensuring affordable and sustainable access to modern energy for all. We can specifically relate to 7.3, which aims to 'Double the global rate of improvement in energy efficiency by 2030.' This is the core mission of DAZOQ, and it's what we strive for every day – a more energy-efficient world. The UN states, 'Sweden has decided that our electricity supply should be 100 percent renewable by 2040 and that our energy use should be 50 percent more efficient by 2030 compared to 2005.'
By utilizing green energy, we reduce carbon emissions and contribute to a more sustainable world. However, even green energy is a resource that must be used responsibly. It's not about not using energy – it's essential for our society. Instead, it's about being cautious and avoiding unnecessary energy waste. When we discuss economics, the term stop wasting and start savingoften comes up. We want that phrase to carry the same weight and significance in the context of energy. Through our energy management system, which measures real-time energy consumption, industrial companies can make data-driven decisions and actively work to streamline their energy usage. In this way, we and our clients contribute to reduced emissions and lower costs.
We understand that climate change knows no borders. It affects us all, regardless of where we live or who we are. Let's come together to discuss honest sustainability communication and take action on the aspects within our reach. In a world of expectations and goals, it's easy to stumble in our own communication about sustainable practices, as we all aspire to be as environmentally conscious as possible. However, we're all in different phases of our corporate journey. Be open, listen, absorb, and let yourself be inspired by the sustainability efforts of others without feeling the pressure to be at the exact same stage in that journey. Everyone can contribute something, and we believe that Goal 13.3 and 7.3 are two key players in our sustainability journey. It's something we are excited and proud to present and integrate into our work and culture.